Welcome to the Official Website for
Savanna High School Class of 1965
Please review the announcements below then have fun browsing the site and connecting with old friends.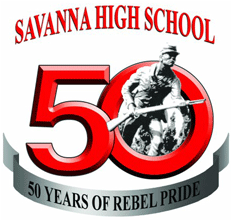 <
ANNOUNCEMENTS
•

THANK YOU TO OUR GENEROUS SPONSORS

We want to recognize and thank the many class members who have generously donated to support your 50 Year Reunion Events and the Class of 1965 Legacy Gift.
Click Here if you wish to donate.

Platinum Sponsors
Nancy Andersen (Madeira)
Doug Bell
Steve Braden
Mike Elliott
Bob MacKinnon
Karen Riegle (Taillon)

Gold Sponsors
Bobbie Bechtold (Ryan)

Craig Casebeer
Kathleen Daulton (Dacey)
Lloyd Gladden
Barbara Larson (Cummings)

Silver Sponsors
Jonel Brown (Lancaster)
Charles Harvey
Mike Leahy
Richard Maurer
Diane Reilly
Mike Sheldrake
Linda Wonn (Carpenter)

Anita Dunn (Wilson)

Bronze Sponsors
Lynn Barmore (Ingram)
Barbara Bennett (White)
Stan Edmonds
Jack Fiskin
Jim Flanary
Wayne Hall
Judy Larson (Miller)
Suzanne Mau
Gordon Reed
Rusty Rolish
Barbara Spiker
Jolly Stephens
John Young
Mitch Wise

Other Donors
Burke Burr
Bob Clark
Mike Morales
Jerri Ross
Pegi Spence (Sadler)
Sue Vandeveer (Haber)
Connie Vansteenwyck (Ezell)

•

Put your bifocals on and look for yourself!

•

The Class of '65 Legacy Fund is alive and well!

The latest recipient of the Class of '65's Legacy Fund now has "happy feet". Thanks to your generosity, the Savanna Senior is now sporting a new pair of very much needed cross country shoes. He is a highly active senior who has participated in band and cross country for four years now.

Our Legacy fund provides necessary funds and gear that allows current students the ability to participate in extracurricular activities. Any amount that you are able to donate is much appreciated and can make a positive impact in a students life.

Lisa Cruz the Senior Administrative Assistant at Savanna High School is once again able to receive donations directly.

Checks to be made out to:

"Savanna High School" with "Legacy Fund" on the memo line and mailed to:

Savanna High School

Attention - Lisa Cruz

301 Gilbert St.

Anaheim, CA 92801

GO REBELS!